About Me:
Hello!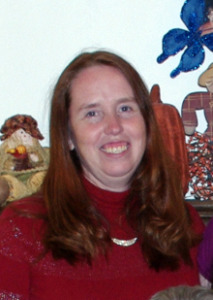 Welcome to The Zippy Zebra!
My name is Tina M. and I am the stay at home mom of
3 teens (2 girls and a boy) (Read our personal stories here.)
4 "angel babies"  This story available here.
4 cats, 1 dog and the wife to a wonderful husband.
My daughters and I  struggle daily with EDS (Ehlers-Danlos Syndrome Type 3).  For those of you who do not know what this illness involves feel free to go HERE and discover the details.
I also enjoy scrapbooking, crafting, organizing, blogging, volunteering, and being at home with my children.
I am in NO WAY an expert when it comes to dealing with EDS or an other physical challenges but I despise being unable to take care of my family and function for myself.  So I  have been finding ways to "adapt" my actions to continue enjoying my activities and providing care for my family.
WHY WE BEGAN THE ZIPPY ZEBRA
   The Zippy Zebra began as little thought in a my head a few years ago when I first moved into our "new" home.  My youngest had just been diagnosed with EDS and began presenting with some the more serious problems associated with EDS (she managed to break her ankle and dislocate her shoulder while in a wheelchair), I was having pregnancy complications and neither of us could accomplish the simplest tasks without severe pain and discomfort.
I began searching in earnest for everything I could find on EDS (which wasn't much) and looking for answers to our questions.  I discovered definitions and medical help but nothing that offered suggestions for living and adapting my everyday life.
I have since discovered several support groups (listed here) and much more information but it still seems to focus on doctor care and medical information which is FANTASTIC but as anyone with EDS knows-Our disease is not curable-(At this time.)
I was looking for ways to adapt my actions to continue my lifestyle with less pain and more pleasure for the things I love.
The support groups offered ideas but then the post would disappear and be difficult to find.  For the past year all I could think was…
Wouldn't it be great if all these ideas and suggestions for coping with everyday life were in one location?
And The Zippy Zebra was born.
What does EDS mean to me specifically? Blessedly, so far, my daughters and I do not struggle with extended physical problems past the lack of energy, skin problems, sublaxations, tears, dislocations and daily pain issues.
Note:  This has changed and the stories and details are shared here.
We may wake on Monday and not be able to walk due to sublaxation of a hip joint or on Tuesday and not be able to comb our own hair or dress ourselves.  All because we slept wrong or turned wrong in our sleep the night before.
Does this mean we crawl back in bed and hide under the covers?
Honestly?  Sometimes, yes, but mostly, no. Instead we find ways to work around it, adapting is the word we use.
I will use a walker in the house to hold me up and crutches to go to the car, and I will do paperwork instead of a house project so that my hip can rest but I refuse to let EDS take over my life.
 WHAT THE ZIPPY ZEBRA IS ABOUT:
The Zippy Zebra is a place to discover tools, shortcuts, behaviors, inspirations and activities others with chronic pain have used to overcome adapt to the physical challenges we face everyday. It is a place to find encouragement, real life stories, information, facts and friends when you are having a rough day struggling with an illness most people do not understand.
Do you have to be a "zebra" to share in or enjoy The Zippy Zebra? 
Absolutely not. 
Everyone is welcome at The Zippy Zebra. We only ask that you remember this a family blog and will be treated as such.  Inappropriate questions, comments or language will be removed.
WHAT THE ZIPPY ZEBRA IS NOT:
We are not professional bloggers.  We  are simply people who wish to share the trials and errors we have gone through looking for ways to adapt our lifestyle so we can enjoy more pleasure and less pain while living our everyday lives. We are not here to offer any medical advice or diagnosis.
WHO ARE THE BLOG CONTRIBUTORS?
I am the soul blogger at this time.  While I may hogtie manipulate my daughters, husband and occasionally a girlfriend or two into proofreading the posts, I am the one responsible in the end.
My husband and I both contribute to the photos, and he handles most of the technical stuff.  I am in NO WAY technically savvy.
We have occasional guest contributors who will share their stories, ideas and lives with us.  Note:  Our Real Life Series is always written by and from the author's perspective.
If you would like to be considered for as a guest post writer please click HERE for more details.
The ZIPPY ZEBRA is not for profit.  We do offer links and promote books, websites and items we feel would benefit others.  We do occasionally (on some but not all items) receive a tiny portion of the sales or "clicks" from those items.   The money earned goes to offset the cost of giveaways, postage (giveaways), link-up hosting fees, blog hosting fees, etc…   Any additional profits (if any) will be donated to EDNF.org for research.   Click here for more details.
Contest Rules
Occasionally we will run contests of giveaways on our site.
1. ELIGIBILITY: This contest is open only to legal U.S. residents, over the age of 18.  Void where prohibited by law.  Contestants residing in those areas where the contest is void may participate in the contest but may not win any prizes.
2. WINNER SELECTION:  Contest winner will be chosen at random by the Rafflecopter program.
3. PRIZES:  Winners will receive prizes listed on the contest entry page.
4. WINNER NOTIFICATION: Winners will be notified within 14 days after the determination date.  Inability to contact a winner may result in disqualification and selection of an alternate winner.
5. CONTEST IS NOT ENDORSED BY FACEBOOK: By participating in this contest, you acknowledge that this contest is in no way sponsored, endorsed or administered by, or associated with, Facebook and release Facebook from any and all liability arising from or related to this contest.
Save
Save