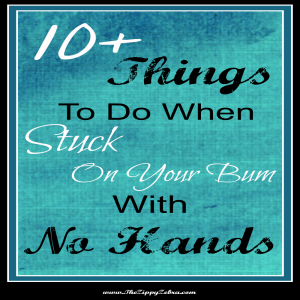 As much as I would love to pretend that I have some amazing ideas for "What To Do When You Are Stuck On Your Bum With No Hands".
I don't.
Some of the items below are repeats from the post 30+ Things to Do when Stuck On Your Bum (a.k.a. Bedrest) with hands free adaptations.
I will, however, list the items that were suggested in hopse that others will share their ideas in the comment section or through email.
I know I personally cannot tolerate being idle and I swear even when I'm asleep my mind runs at 5,000 miles per hour, so no hands becomes VERY depressing for me and yes, I have been there.
---
10+ Things to Do When Stuck on Your Bum With No Hands