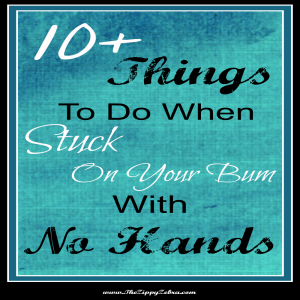 As much as I would love to pretend that I have some amazing ideas for "What To Do When You Are Stuck On Your Bum With No Hands".
I don't.
Some of the items below are repeats from the post 30+ Things to Do when Stuck On Your Bum (a.k.a. Bedrest) with hands free adaptations.
I will, however, list the items that were suggested in hopse that others will share their ideas in the comment section or through email.
I know I personally cannot tolerate being idle and I swear even when I'm asleep my mind runs at 5,000 miles per hour, so no hands becomes VERY depressing for me and yes, I have been there.
---
10+ Things to Do When Stuck on Your Bum With No Hands
Phone a friend

(Use a blue tooth or old fashioned headset)

Schedule doctor appointments, visits, etc

… (Using a blue tooth or hands-free headset)

Compose emails (

Using the hands free program on your phone or a program on your computer)

Learn a new language through an audio program

(try your local library, friends or on-line)

Listen to an audio book

Listen to scriptures or bible lessons

(or whatever you enjoy) on-line

Listen to talk radio

(I enjoy Dave Ramsey, myself)

Watch videos on-line

to earn points redeemable for cash, prizes and coupons.  Swagbucks, Recyclebank and many other sites offer these options.
Use Dragon Speak or a similar talk to type program to write a story, create a blog post, brain storm, do school work, make to-do or shopping list or just to to remind yourself of things.
Use Netflix, Hulu, Amazon Prime or other video streaming programs to

catch up on all your favorite TV shows

(In Order)

Have a movie marathon

with your significant other, best friend or children (they can make the popcorn)

Catch up on needed rest

Watch the cooking channel

and learn to create something new to wow your family with when you are better.

If you have small children work with them

on their ABC's, Numbers, and Colors
---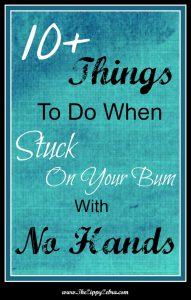 The majority of you who contacted me are unable to use your hands for much of anything, including computer activities and were disappointed with the original post 30+ Things to Do when Stuck On Your Bum (a.k.a. Bedrest)   PLEASE add any suggestions you have in the comments below.  We want to offer every idea we can to help people stay positive during these times of frustration.
If you can use your hands in any capacity you may be interested in our post 30+ Things to Do when Stuck On Your Bum (a.k.a. Bedrest) .
---
---
If you found this post to be useful please show us by clicking "like" on this post and/or sharing a comment.
If you have any suggestions to add feel free to comment below. All comments are moderated before posting.
For more great ideas follow us on Facebook, Pinterest and sign up to receive weekly emails.
Save
Save
Save
Save
Save
Save