Guest post by Mysti Reutlinger
I Love God: A Devotional for Tweens and Teens
by Jaden Laster
contributions by Simon Gabriel
edited by Mysti Reutlinger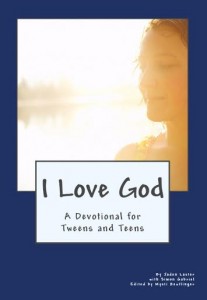 As I sat at the computer checking email one early December morning, Jaden walked up behind me and said, "Mom, I think I need to do something."  Panic set in as a parent living with and raising two children with Ehlers-Danlos Syndrome.  I turned as my heart raced and said, "What do you need to do, son?"  It was in that moment when his brown eyes sparkled with excitement not of this world.  He explained he felt called to write a book with stories and Bible verses… it had to be Proverbs!  As he spoke, my soul was filled with insatiable desire to help him bring this vision pressed upon his heart to reality.
I helped Jaden with a basic outline for his experiences, verses, reading, and questions.  As he wrote out stories, I read through them and asked many questions of him to guide him in elaborating with more detail; together we refined each word he meticulously typed until his heart was overflowed with joy.  After he finished every story, I set out to bring it all together as an active book; one where tweens and teens could write their responses to heart-provoking questions and journal each day.  At the end of the process, all we could do was thank God for the opportunity to serve him today – and going forward.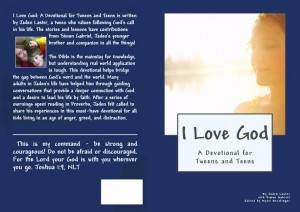 I Love God Devotional is written for tweens and teens by Jaden Laster, age 11, of Scottsbluff, Nebraska. Instilled with a passion and purpose for living a God-focused life, Jaden openly admits to his own mistakes, the lessons learned with poor choices, and how to celebrate a God-filled joy by listening to the spirit within him. He's candid, lighthearted, and serious about all the things that God makes beautiful.
We would love to hear your thoughts about the devotional and how you've followed (or not) God's call in your own life and the results.  We love to pray for others and welcome you to share your needs on the Facebook page (https://www.facebook.com/I-Love-God-Devotional-639931566150014/?fref=ts), follow us at http://ilovegoddevotional.com, or pick up a copy of the book at Amazon (or autographed copies via the website).
Purchase on amazon