Mel's FIGHT with E.D.S.
Hi, I'm Mel!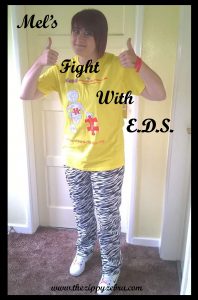 I'm 21 years old…
I've always had problems with joints etc..
I was around 14 years old when I had my first ever dislocation of a joint..  At the time I was doing karate, next minute I felt my knee go weird and I went straight to the floor..  From that day I have been under consultants ever since where they found I had dislocated my knee…
I have had further dislocations of most of my joints.  I feel my hips pop in and out every time I stand still or stand up.
It also affects my right thumb.  I can no longer write in that hand.  Luckily I can write with both hands.  
Most of my other joints sublux.
I was diagnosed with hypermobility syndrome at first…
I went under my first knee op in 2014, unfortunately that failed and 7 months later I had further surgery..
I knew something wasn't right so in 2015 I decided to pick up the courage and go to the doctors to seek help.
I mentioned all the problems I have and I mentioned about EDS.  My doctor agreed and looked it up.  At first I was being referred to a rheumatologist but in the end I got transferred to Oxford hospital where I got the diagnosis of jht-EDS and Complex Regional Pain Syndrome (CRPS).
Since getting the diagnosis I have had further knee surgery but unfortunately have been told there is no cure or anything more they can do for me.
Hearing those words is heartbreaking, definitely.
Hearing "You will not be able to walk properly again and have no idea on how long you will use crutches for…"
Hearing this has made me realize how debilitating this condition actually is..
It is hard to live each day because you don't know what your gonna wake up like…
I don't live each day I fight each day…
I want to get the word out about this condition, not many professions have ever heard of it where I am from..
More awareness needs to be raised..
So please feel free to share my story and help raise awareness against Ehlers Danlos Syndrome..
#edsawareness #makingourinvisiblevisible.
---
To check out more great real stories of people living with chronic illness click here.
Would like to share YOUR story of chronic illness?
We would love to share it.
For details on what we need and what to expect click here.
We can't wait to hear from you!
---
Please leave an encouraging word for Mel and her fight in the comment section below.
---
And thank you for stopping by we hope we were able to brighten your day in even a tiny, little way.
---
All "Real Life Stories" are written by the subject and contain their original words ,descriptions and information.  The Zippy Zebra shares these stories in hope of spreading awareness and offering encouragement for those struggling to find answers or who feel alone. 
If you have a story you would like to submit we would be happy to hear from YOU!
We do not offer or receive compensation for any of our "Real Life Stories" post.   We do this for you our readers and all those like us who are looking for answers and encouragement.
For more details on how to submit your story click here.
---
All words in blue above are LINKS.   Please click them to be directed to further info.
You can follow us at the Zippy Zebra on Facebook, Pinterest, Twitter and of course NEVER miss a post by signing up for email (all of which are avaialbe with quick links on the upper right hand side of your screen).
Save
Save
Save
Save
Save
Save
Save
Save
Save
Save
Save
Save