I'm the (now) single mother of four amazing babies; JD, Heaven, Starla, and Jasper.  I had very difficult pregnancies and three of my babies ended up being born early.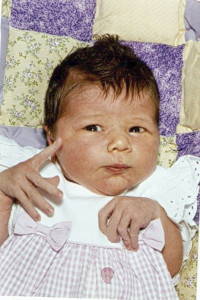 Despite my hard pregnancy, my second baby, Heaven held on the longest and was born right on time.  The only one, seemingly, born without complications.  At the time I found it odd that she was born with such long fingers.  When most mothers counted to make sure their baby had 10 fingers and toes, I counted to see if my baby had an extra knuckle!  I was reassured by doctors that she just had "piano playing" hands and would be just fine.
      Thirteen years had gone by so fast and my beautiful lil baby was growing to be such a TALL, SKINNY young lady.  She is so much taller than my small not quite 5'4″ and my ex husband's 5'8″… but I figured that I am pretty slender and my brothers are tall; perhaps she got it from them.

     Every year I take my kids for their physical on their birthday.  This past year, Heaven (13) also needed a physical for soccer (her favorite sport) and our doctor signed off on the papers stating she was very healthy.  On the way out of the exam room, the pediatrician waved to Heaven and Heaven waved back.  The doctor got a curious look on her face and came back into the room.  She took Heaven's hand and asked her to make a fist, tucking her thumb into it. She did, and Heaven's long thumb poked out the other side. The doctor then looked worried and turned to me and asked if she could run some more tests…  She found scoliosis, high palette and crowded teeth, thin skin, an "extra click" in her heart rhythm…
     A short time later we were on our way to a cardiologist from Children's Hospital of Philadelphia.  We were in the office for hours, even long after closing.  The cardiologist ran a whole battery of tests and eventually concluded Heaven had an enlarged aortic root and mitral valve prolapse.
Our life flipped upside down in a blink.
It quickly became specialists and tests and an enormous discovery process but we were told my baby, with the long fingers, has a connective tissue disorder.  I felt like my breath had been sucked from my body and like my heart would never slow down again… and if I was feeling like this I cannot imagine how my child was feeling.
I also felt stupid.  I had a dear friend, only 6-7 years earlier tell me he and his daughter were diagnosed with Marfan Syndrome.
I got a quick crash course on the condition and thought I was pretty educated on this.
How could I not draw a parallel with my own child?!?
How did I not see the symptoms or signs?
Compounding that, my mom, my sister and I, all have "invisible" debilitating conditions.  (My mom: Isaac's Syndrome, My sister; Multiple Sclerosis, and I have neuro-muscular condition with chronic migraines.)
I felt like I should have figured this out, known somehow.  I feel helpless.  I have got to do something in my life to make these conditions a more widely known and recognized thing.  It's unreal to me that its still so unknown and that society and even doctors don't know what to look for.  I am a career artist and donated pieces and have worked for years raising awareness and funds for research for childhood cancers, breast cancer, and MS.  I have stood for and raised money for suicide prevention and domestic violence.  This year Marfan Syndrome and all Connective Tissue Disorders have found a new supporter.  This has become my single-minded mission.  I plan to try to make awareness for these conditions viral knowledge.
Watch out for me and my girl.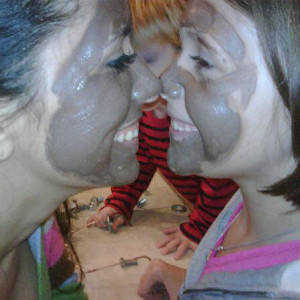 We're taking this on and we're fighters!
~Channyn Gallegos
 Mama to Heaven Leigh Geese, fighter!
See additional comments from Channyn in the comments section
—
 Channyn Gallegos
© A Work of Heart Studio, LLC 2010 All rights reserved
~I want to touch people with my art. I want them to say 'he feels deeply, he feels tenderly.' ~ Vincent van Gogh~
Check out Channyn's Site here.
  https://www.facebook.com/ArtistChannynGallegos?ref=bookmarks
To follow this series  be sure to "Like" Our Facebook Page and/or sign up for emails or rss feed.
Have a story to share?
Please click here for submissions details.
We would love to hear from you.