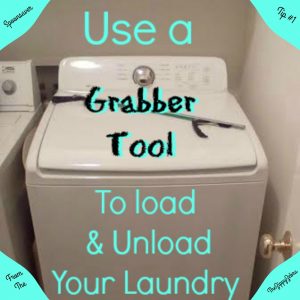 Spoonsaver Tip #1
USE A GRABBER
for everything (not just laundry)
I can't believe I haven't shared this before!!!
I know many of us "balk" at the idea of using "aids" to help us in our everyday life, but deciding to use a grabber for everyday chores is one of the BEST THINGS I HAVE EVER DONE!  Yes, I capitalized that because it was a pain changer for me.  Yes, I said a pain changer.   Two of the hardest things for me to do are bending and reaching because of back pain, migraines and shoulder issues.  THIS grabber allows me to maintain my home, reach things in the bottom drawer, sort laundry, empty the washer and so much more.  Things I never would have thought about until I was seriously injured just a few months ago, and now I use it for everything.  I even take it when I visit family and friends so that I can help around their homes and take care of myself.  No more calling a kid to grab my jeans, shoes or socks off the floor.  I can just grab it myself and finish getting dressed or walk away knowing the floor is picked up.
If you don't have one, I suggest buying one today.  I believe I purchased ours second hand, but I know they are available at most pharmacies, retail stores and even on line.
This is the one I use daily, but there are MULTIPLE designs available, including extenders and larger claws.  Just keep looking until you find one you can use that is in your price range.  It will change your entire day.
---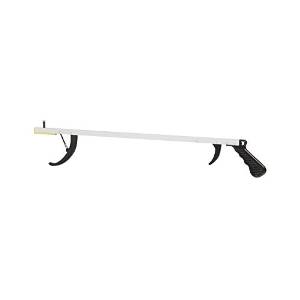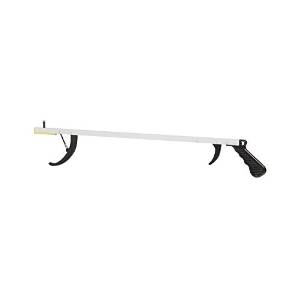 What would be your top Spoonsaver Tip?  Please feel free to share in the comment section and watch for more each week as we return to our roots and share tips, tools and tricks to help with everyday life.
---
This post was not endorsed but I did include an affiliate link.  This simply means I used an Amazon Link that will share a small percentage with our blog IF you purchase from there, but will not increase or change the price for you, the reader.  I wrote this post because I was recently sharing with a private group, and this is one of the most helpful tools I own for everyday activities.  I realized I had never shared just how it important it was with you, our readers, so I interrupted my morning tasks to take time and share it with you.
What do you use a grabber for?
Please share the details below.
We will not share your email address or spam you with junk, promise!  We will share each post in the email and share additional links, updates and fun stuff on Facebook.
Save