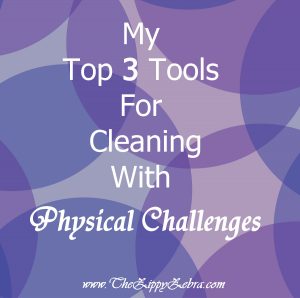 Welcome to The ZIPPY ZEBRA'S first post!  We are so excited to have you!
For starters let me introduce myself.
I am Tina M. and struggle with the pain associated with EDS type 3, daily.
To find out more about me, EDS and why I began this blog click HERE and HERE.
I have spent months trying to sort through all the information I want to share and have finally decided to make the first post very simple.
The Top 3 Tools I Use To Make Everyday Cleaning Easier (especially when I am in pain or not functioning properly).
Continue Reading the full Article…