How To Help Your EDS Child (Part 6)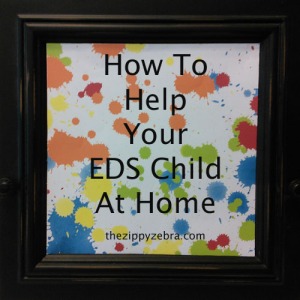 These are just a few ideas to help make schoolwork a little less painful at home.
If you have any other ideas or suggestions please leave them in the comment section below or e-mail them to TheZippyZebra@outlook.com.
 Keep the 2nd set of books from school in an easy to reach location  
We tried keeping the extra books in the top of our hall closet but accessing them became difficult for the girls. Reaching and pulling down the heavy books was creating considerable pain, so we have moved them to an easy to reach location on our hallway shelf.
Keep a hook or area near the door for their backpack in an easy to reach spot.
This eliminates searching later and enables them to put it down immediately and to find it when they are worn out and tired later.
Have a set time and various locations to do homework.
My girls have constant pain and never feel like doing homework so we have a set time to start it but the location varies based on pain and assigned homework.  They actually do quite a bit while reclining on the sofa (with no TV).
Set a timer for homework so that your child can grab a break, stretch move around, grab a snack, whatever helps ease the pain and concentrate.
My children are in high school so we do 30 minutes on and 15 to 30 minutes off,  especially if there is quite a bit of makeup work.  In the off time they will stretch out on the floor, check text and emails, do a few simple stretches or make a phone call.
Someone who can help your child with what was assigned at school that day or in their absence.  Sometimes having a "study buddy" helps to take their mind off the pain and focus on the schoolwork.
For writing ideas and suggestions go here.
Dragon speak has been a blessing at our house.
My oldest daughter uses it to write her comp papers and take 7 pages of notes in another class.  While my youngest uses it to answer anything with a full sentence or longer answer question.  Right now they are both injured and can't write well at all.
Make sure you are signed up for parent portal or whatever on-line access your school offers for homework reminders and help.
Allow your child to use an ergonomic chair.
Use a tabletop easel or stand to prop your child's books for easier reading and less stain on the neck.
Have a tablet or laptop for your child to use when they are unable to sit at the table.
Use a lap desk to allow your child to view their computer or tablet at a higher, more comfortable level.
We use a soft bottom one with a hard top and a built in cup holder we purchased for $5.00 at Big Lots.
Have a footstool or something available for child to prop their feet on if sitting at the table when feet flat on the floor is an issue.
Sometimes just changing position can alleviate pain and tension.
I am certain some of you have found other ways to help your child.  Please share these in the comments below for other EDS parents.
---
For other suggestions on how to help your EDS child visit these pages:
How Do I Prepare For an IEP or 504 (Part 2 of the Helping Your EDS Child)
Spoonsavers For Writing (Part 3 od the Helping Your EDS Child)
Classroom Spoonsavers (Part 4 of the Helping Your EDS Child)
Out of the Classroom Spoonsavers (Part 5 of the Helping Your EDS Child)
 # EDSParenting, # SpoonSavers
---
This post contains affiliate links they are here to offer a visual concept of what I am referring to.   To discover what "affiliate" link means please visit our page.