Transportation and Mobility Ideas For Your Child

Part 7 in the Helping Your EDS Child Series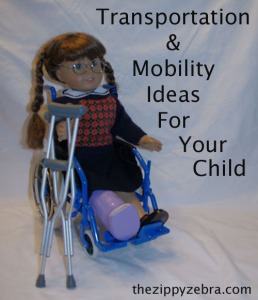 Transportation To and From School
Most schools can provide a "special needs" bus when children are unable to ride a regular bus.
I believe every school is required to have a "special needs" bus. 
(I am sure there is a more "politically correct" word for this but since I am a personal blogger and not a professional I am going to stick with that.)
The "special needs" bus in our school offers not only a driver but an aide too.  The aide helps the child with everything from assisting them onto the bus, carrying their bags and strapping them in to making sure an adult is home to receive them.
The bus itself should be fitted with a secure chair lift and proper seating for those students who are wheelchair bound (temporary or long term).  It may even be available for those on crutches.
Note:  In our district all ages and all needs ride together on one bus.

This means that behaviorally challenged students ride the same bus as the physically challenged students.
---
Our personal experience
In 2010 my daughter was in and out of a wheelchair on a regular basis due to EDS complications, I was expecting a surprise child and having complications when loading and unloading the wheelchair from our van caused me more pain.
Upon the suggestion of a friend we contacted the school about special transportation.
They had it, and it was GREAT!
All we had to do was make arrangements with the bus barn (with a doctor's note) and make follow-up calls when she would not be riding due to illness or appointments.
We want to share this information for other parents because it ended up being a lifesaver for us and we would never have thought of it if someone had not suggested it.
Use the school wheelchair or leave a spare in a secure location at the school.
Now that both girls are in high school we use the school wheelchair or a spare we leave on the premises.
This is such a relief on my back and an amazing time saver.
No more loading and unloading EVERY morning and EVERY night.
No more making sure we had room for it in the van with the kids (or even remembered to grab it from home).
Have a Doctor's Note On File Stating Your Child can use crutches, a wheelchair, elevator, etc… as needed.
As you know an EDS child may go to school feeling pretty good and by the end of the first hour require some kind of mobility support.
Having a note on file means that your child can use the necessary accommodations to finish the school day in as little pain as possible.
(If your child is younger I would recommend that they are allowed to call you to discuss any injury.)
Extra Time Between Classes
(even without serious injury)
As you know or will soon discover your child may not always be steady on their feet (even in an empty hallway). 
One of my girls' biggest complaints is being knocked around in the hallway between classes, not by bullies but by inconsiderate classmates.
A few extra minutes can mean avoiding additional pain and injuries.
Use of Separate Entrances and Exits (when injured).
Our girls were allowed to use the library entrance when in a wheelchair at their Jr. High.
The entrance was not crowded and much closer to the parking lot.
The separate location allowed them to grab a minute to take off their jacket, check their bag and take a deep breath before entering the swarm of students.
The librarian also spent a few minutes talking and listening to them before and after their day.  Helping to resolve small issues (and there are a lot of those) and bring to light larger ones.
Lunchtime
Having an invisible illness or physical challenge can mean that your child is in constant need of a helping hand even when you cannot be there.
If your child eats a school lunch they may need to begin earlier than other students and have help gathering their tray, silverware, and drink.
Ever see a healthy two-handed student try to juggle a drink, their, tray, silverware, bowl and money?
It can be quite a chore.
Now imagine a student in a sling, on crutches, with braces, etc…
It is a whole new struggle.
My daughter's solution to this (and her limited diet) is to bring her lunch from home and if she really wants to eat at school she will ask for help from the "lunch ladies" or a friend.  The only problem is, by the time she makes it through line, lunch is almost over.
If need be special seating (for a wheelchair, walker or crutches) should be arranged, as well.
Use of Elevator As Needed
Once again, have a doctor's note on file.
Little Tommy may go to school running and skipping but by lunch he will have turned his ankle and twisted his knee and can no longer use the stairs.
Having a dr.'s note on hand can provide the "assistance" he needs to finish his school day without further pain or damage.
Field Trips
This is the only area our family has truly struggled with and thankfully only on one occasion.
ASSESS THE TRIP
We assess each field trip and decide if it is in the best interest for the girls to go.  That means the girls and I discuss the details.  If sitting is causing them insurmountable pain everyday then a trip to some off the wall show after a two hour ride on the bus is probably not a trip they are going to take.  Going to the huge indoor playground with ziplines, trampolines, ball pits and laser tag is not a good choice either.  My girls are 14 & 18 so they are allowed to make the final decision after each discussion but we always discuss the pros and cons first.
As I said we have only had one trip present a problem with the school itself (that I am aware of) and we have gone on several trips (including overnights).
Yes, I say "we" because I tend to be allowed (or invited) to chaperone most of my children's field trips.  I love it, but I sometimes wonder about the school's alternative reasons.
(I mean, yeah, okay my non-eds child has stopped breathing and gone into anaphylactic shock from an unknown cause while at school, my EDS girls have dislocated a wrist while sharpening their pencils and broke two bones while temporarily sentenced to a wheelchair but…..  Hey!  They have EDS.  It could have been worse.)
Anyway, about the field trip complications.  The last big trip we attended the school should have provided a handicap accommodating bus, not only were my daughter (who was using a wheelchair) and I going but another student with life time walking limitations.  We were told a bus with assistive devices would be available but as we went to load, neither of the two buses had any kind of boarding aids.  After the initial loading some of the students realized the dilemma and pain and formed a chair to lift and raise our companion up and down the step.  It was very thoughtful of the other students but it should not have been necessary.  We loaded and unloaded, 4 times or more.  It was discussed later with school staff and didn't present as an issue again.
---
Other Mobility Device Ideas
And How to Make Them Cool and Less Painful for Your Kids
Walkers– (These can be decorated with duct tape, streamers, special made bags and baskets.)
Crutches– Again duct tape, ribbon, paint, etc… to make them "cool"
To help with arm pit pain we use seat belt shoulder strap covers over the arm tops (the faux wool ones from Dollar General cost around $5.00).  They are made with Velcro, can be cut to size, found in the automotive department and are easy to remove for washing or storing.
This tutorial for car seat strap covers would work too if you like to create things.  Just click the photo for the how-to link.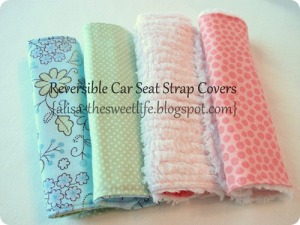 Wheelchairs– Use, buy, or rent a child size chair when possible.  It prevents older kids from playing in it.  It is much easier to fold, lift, carry, push, and turn.
Create or purchase a bag that will hang from the rear of the chair and not rub the wheels.  Everyone will thank you for it and it will last much longer..
Buy or create a tray to fit across the front of you child's chair from arm to arm.  This will allow them to do their work while sitting.  No matter how hard they try most school surfaces are not going to comfortably fit a wheelchair and leave room for comfortable writing/reading.  If it can be removed and stored in the side of the chair or bag on the back, that's even better.
We own ones like this and this.
Of course, we purchased ours at Big Lots and resale shops but these links can give you an idea of what we are talking about.
Add a pad to the seat and back of your child's chair.  Plastic and vinyl create sweat and EDS skin is very easily irritated.
A cloth pillow or slip cover will help with this, as well as offer extra padding when they need to move around slightly or support an errant joint.
---
We hope you have found some helpful ideas.
If you have any additional suggestions please share them below or email them to TheZippyZebra@outlook.com
Our goal here at The Zippy Zebra is to offer practical ideas that can be used in everyday life to reduce pain & stress and allow you to feel and be more accomplished.
Please click the links below for the rest of the series.
How do you prepare for an IEP or 504?
How To Help Your EDS Child At Home
---
To receive updates and emails from The Zippy Zebra please sign up for notifications and/or click the "like" button for our page.
Feel free to share this and any other post with your social media and don't forget to drop a line of encouragement.
We can always use one.
Thanks for stopping by and have a great day!
Note:  This post contains affiliate links.  Please see our disclosure policy to discover more on what this means.