Grocery Shopping
Those two words alone bring aching hips, lower back pain, and a massive headache to mind and that's just the thought pushing a cart through the store.
Today I hope to compile and share a list of shortcuts and hints I use to get the most for my money with the least amount of time and effort in the grocery store.
Preplan
Create a menu. 
The internet is full of great ideas and  just a little research should provide an example that works for you.  You can base it off groceries you have on hand, local sales and in season items.
View how I plan our "menus" here.
Create a shopping list.
Include items from your grocery/supply checklist, menu and local flyer.
Click here for an example of our on-hand grocery/supply checklist.  I use this printable list to double check everything before each planned shopping trip.  I would love to say I remember everything without writing it down but I don't.  My brain fog while shopping makes me forget everything including my phone.  I am always leaving it in a bathroom stall or checkout counter.  (Please tell me I am not the only one.)
We also keep a notepad on the refrigerator to jot things down as we use them up, begin to run low or have a special request.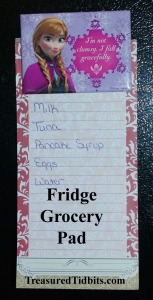 I try to take one major trip bi-weekly to our local stores with my husband (cart pusher, driver & heavylifter) and limit additional trips to restock the basics such as milk and bread.
Remember to add items for your "go to" meals for those nights you can't cook.
Check your local ads for current sales and deals.  Most of us struggle with a limited or tight income and a little preplanning can save quite bit of time and cash. 
For quick store/coupon match-ups go to MoneySavingMom.com
Search print and cut or upload any coupons or discounts you can use.
My favorite coupon site is Living Rich with Coupons  (Simply go to their coupon database type in the name of the item you are going to purchase and a list of coupons will come up including source, store and printable links.)
Clean out your fridge and straighten your cabinets a day or two before you go.
You most likely will not have the energy after shopping and it will make it sooo much easier to put things in their place.  It will also remind you which items are getting low and might need restocked.
Break your shopping list down by store and aisle/section.
If you are like me,  it is difficult enough to finish your shopping without realizing that you forgot something in Aisle 1 when your are already in aisle 18.   Create your list based on aisle numbers and locations in your store.  If you can't remember, make a note next time you are there or ask the store manager for a store map.   Most stores have these and are happy to share.
Here is an example of ours.  It lists store, section, price and coupons or discounts if available.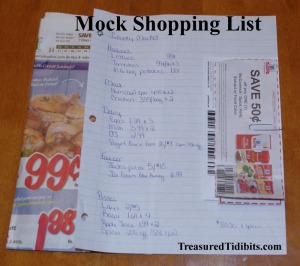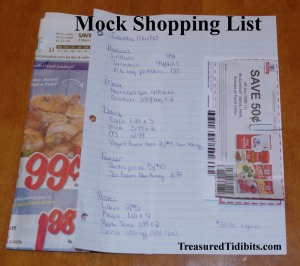 Click here to view some of the various programs we use to get the most for our time and money.  (Be sure to check limits and expiration dates.)   Some of the stores and websites offer free items weekly.  Be sure to sign up for those and if you are unable to shop that week, no sweat, but if you can, GREAT, you get a freebie for 30 seconds on your computer and a little fore thought.
Shop at a time when stores are less crowded.  Early morning, late at night and definitely not a Friday or first of the month when the stores are loaded with people.  If this is your pay period try to make your groceries last just a few days past your check date and your time in the store will likely be a much shorter, better experience.
Eat a solid snack before leaving and if traveling a short distance pack a snack and drink with you.  Shopping on an empty stomach is NEVER a good idea.  It encourages impulse purchases, makes you crabby, possibly lightheaded and just doesn't improve the overall experience any.
Take a shopping buddy or send someone for you.
As I mentioned earlier, I try to plan my larger bi-weekly shopping trips with my husband in tow.  He pushes the cart (PLEASE tell me I am not the only one this causes undo pain to), does the bending and lifting, loads the conveyor belt, loads the car and keeps me motivated and focused, not to mention handles the driving so I can put my feet up like a pretzel.  (Anyone else do this?)
Take recycling bags or boxes.
Whether you are on your own or with a buddy, take bags and boxes you know you can handle.   Plastic bags do not hold or stack well and can leave nasty marks on sensitive skin.  Boxes used at the discount "pack your own stores" can carry germs, cause abrasions and be extremely awkward to carry, not to mention need to be disposed of upon returning home.
My solution is to take a cooler & totes (when going to the city) and recycling bags with strong bottoms.  Both containers keep odd shaped items upright (I hate messes), enable me to grab them without reaching or digging and require very little fore thought.  The cooler allows me to take a break or grab a bite without worrying about the food spoiling.
Note:  I do not carry the full totes into the house.  I take the individual bags or leave it for my son or hubby to carry.
Pick the time of day best suited to your strengths.
If you are going to multiple stores be certain to bring your medication, drinks, snacks and a charged phone.  Plan ahead for snacks and breaks.
Keeping your sugar and salt in balance will help keep your energy and personality in check.  (Ask my kids they will tell ya.  I really should do one of those Snickers commercials where you become normal again after you eat.)   It sounds like something minor but I have found it can make a HUGE difference in the entire experience.
Once home don't stress about putting everything away immediately.  Simply stash the perishables in the proper locations and grab a break!
You deserve it!
Thanks for stopping by!
Please let us know when you try some of these how it worked for you.
If you already incorporate them and have any other great ideas we want to hear those too.
If you would like to receive notifications of new posts please "Like" our Facebook page and/or signup for email notifications.
I promise we won't share it with anyone and updates will only come to you when we share a new post.
If you "like" the FB page you will be able to see little updates and things I find to be fun and useful on the internet.
Hope this helped and today is a pain-free day for you!