Jennifer's Journey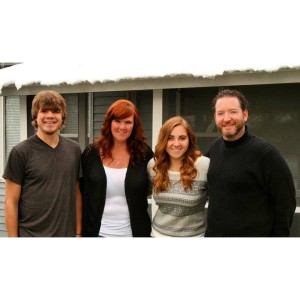 My Name is Jennifer Cross
I was born in Springfield Illinois on October 1st 1972 ( I accept birthday gifts all year =) )
I am the middle monster of 3 kids.  My brother Jeff is 47 (Marfan's and valve replacement at 32 like my dad and ticks) and my sister Jeanine is 41 has Marfan's and no surgeries (we are polish twins ) Most of my childhood was spent outdoors…even more when we moved to Clearwater, Florida in 1980 following my father's valve replacement at the age of 32.  My dad was 6'4 handsome, fun, and always loved being outside so moving to Florida was ideal since shoveling snow was not a great idea for him.
I remember sitting at the dinner table, hearing a "tick" on some nights and on others nothing.  That was the sound my dad's heart made after his surgery.  My family didn't discuss such things as health etc.. so I just thought it made my dad even more special .
At that time little was known about what my dad had.. Marfan's Syndrome.
I never gave it any thought..
Then I became a teenager..
I was always active then I started getting migraines, feeling a little more tired when running around, moody..
but Hey I was a teenager =)
I came down with a "chest cold" in the middle of July 1983.  I was taken to the Dr's where he gave me an antibiotic to clear it up.
Growing up Disney was a lot of my childhood and our family was headed to Orlando for the day.  I still did not feel good.  I remember it like it happened this morning.  We were at EPCOT getting ready to go on Spaceship Earth (the big round golf ball) and me saying to my dad, that I really couldn't breath and my chest was heavy.  A Disney Cast Member overheard this and said I was green.  I was just sitting in the cart that carries you throught the 24 minute ride up several stories in the dark and collapsed.  As I was going up I could hear my parents telling the Cast Member to call 911.  After a very LONG 24 minutes (my parents yelling to me the whole ride and a stranger behind me holding my hand and comforting me) there was an EMT crew waiting for me.  On the stretcher I went then off to the hospital where I was the only one who could walk and talk in the Peds ICU.  After several tests and machines and family history they discovered I have Mitral Valve Prolapse and suggested Marfan's like my dad.
Of course I thought my world was over… I couldn't play sports or dance or "over do" it and I am not one who likes to sit still… I went to the cardiologist every year to monitor my heart and I felt like it was a life sentence..
My dad passed away at 48 while I was just 18 and a newlywed and heartbroken.
I have always stayed active and tried to avoid the bad things..well except wine.. and weighed if I should even have kids.  When they arrived I worried they would have Marfan's.
I have had my fair share of poking and prodding…the endless tests…running on a treadmill then laying down real quick while they looked at my heart.
It's scary and amazing at the same time and as of now (knocking on wood) I am just a normal Marfan Chick.
No surgeries, medicine, or enlargement.
I am in my early 40's when I hear you really need to keep active or you fall apart..
I have 2 beautiful kids.
  My son Curtis just turned 21 and loves to play hockey and is as tall as his mom at 6'1 and is Marfan free.  My daughter Rebecca is 18 and loves her dance, is not as tall at 5'7 and is also Marfan free.
I have the best support from my wonderful husband Todd of 10 years (my first marriage..well what can you say..he is supportive of the idea the kids would have had heart issues).
Life lessons?
 Dr's make mistakes and never settle for a pill pusher and go with your gut.  That Dr's mistake could have cost me alot more than a ride to the hospital.
Love yourself enough to not keep pushing away "symptoms".
Today's medical world amazes me in the strides they have taken for earlier diagnosis and treatment for longer lives…
 It is a gift.
I use humor to help deal with this..Thank's for taking a read at a mini part of this tall girl's life..
~~Jennifer
Jennifer and her family participate in the Amercian Heart Association Heart walk.  To discover details about that journey click here.
Did you enjoy reading Jennifer's story?
  Do you have one of your own?
 We are accepting submissions from anyone with a story about chronic/invisible illness or physical challenges.
Please click this link http://thezippyzebra.com/?page_id=790 for more details.
If you would like to follow this series please f
ollow us on
Pinterest
,
Twitter
,
Facebook
and sign up to receive emails.
We will not share your email address or spam you with junk, promise!  We will share each post in the email and share additional links, updates and fun stuff on Facebook.
Additional "Real Life" Marfan Stories