Please excuse the delay on the update but I have been spending the last few days tending to my daughter (mostly just letting her support her head on my arm or leg to help fight her never ending headache).
After the terrifying incident on June 14th (read story here.) I began doing more research into CCI and what other things might cause my daughter's symptoms both that night and the days to follow.  I also asked around in the local EDS community for info on Illinois doctors with experience in EDS and CCI or other head issues.
I printed a copy of the CCI info, recorded the names of experienced doctors and institutions and scheduled an appointment with our family physician for Wednesday afternoon.
My daughter was
Still struggling to breathe when she laid flat, or turned her head side to side or looked up.
She had a non stop headache that increased regularly.
She was still very unstable on her feet.  Shaky "like jello" and stumbling a lot.
She struggled to form basic thoughts and would stop mid-sentence and forget what we were discussing.
She would suddenly be "spaced out".  Sitting there staring in space and not having a clue what just happened.
She drew a couple of shapes on my notebook as I spoke with her geneticist office (these were no bigger than 1/4 inch each) and proceeded to point out that it made her hands shake and turn a strange color and made her head hurt.  When she stood up to change positions she once again slid to the floor like a piece of spaghetti.
Even though she was only taking Aleve and Loratidine she looked as though she was heavily sedated.  Her eyes did not open far or seem to focus well.
The only thing that seemed to relieve the headache any was to rest her head on my arm or shoulder so that it is slightly pressed forward.
She struggled to breathe and her mandible would shake even when she was sound asleep if she turned her head or let it fall flat.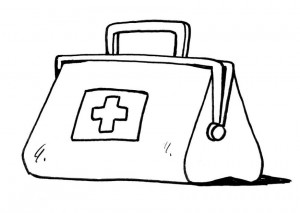 As I suspected our doctor was concerned but not really sure what the cause might be.  We discussed her symptoms and I gave him a copy of the hospital results (which of course showed  no problems).  We also discussed possible causes and then I asked him if he had ever heard of CCI and if he would take a look at the info and see what he thought of it being a possible cause.
He did and after reading it agreed that it sounded very likely but of course we had NO way of pursuing the diagnosis in our local office or hospital.  He did agree to call the first name I had on our list so that we could beginning pursuing a cause ASAP.
The 20 minute ride home had me almost returning to the ER due to the pain my daughter began experiencing in her head.  However, she asked me to wait because it seemed that the pressure of riding in the car was causing the increase.
The nurse called me within 10 minutes of leaving the office and stated the info had been faxed and I should be hearing from DR. F. (the neurosurgeon's office shortly).
I waited the rest of that afternoon (still communicating and researching with other EDSers) and into the next for a call from the neuro office.  When after 24hours I STILL had not heard ANYTHING I called the office and asked if there was a delay with information, insurance, etc… and the response was; "No, we simply have begun a new system and new referrals must fill out a form before we can put them in the system.  I am working on faxing the forms out now."…..I replied with a polite "Thank you, I am sure my doctor will return it immediately."
The next morning we still had not heard anything so I called my local PCP office again and asked if they had received the fax.  NOPE.  So I offered them a separate name (4 hour drive) and asked for a different referral.
THEN
My daughter showed me that the soft tissue on the back of her head had continued to swell and the blood vessels on the inside of her left eye had ruptured so that ALL you saw was red from the retina to the inside point.
I immediately called the office again and asked for an appointment with our PCP.  His day was booked but after consulting with him they chose to take my daughter as add-on.  By the time we went 3.5 hours later the bleeding had reduced to only pronounced vessels but the pain and swelling were still there.  When the doctor touched the back of her head to check the swelling her arms turned white, numb and tingly.
We discussed the difficulty we were having with getting an appointment and the fact that she still wasn't right and seem to struggle with the turn of her head.  I explained that I had considered returning to St. John's ER (our favorite, you can see why here) for follow up testing and treatment because I was very concerned about permanent blood flow issues.
He suggested that we seek an emergency room with a neuro unit capable of handling our situation if it was indeed cause by CCI.  We discussed our options and I left promising to drive careful and slow in the nasty rain we were getting.
I returned home, researched the closest hospitals (since riding in the car caused her pain) and chose CARLE in Champaign (I knew at least two neuros there had experience with both EDS and CCI).
I will share about that experience in the next post as I need to take a break and take care of my baby.
#scariestnightofourlife