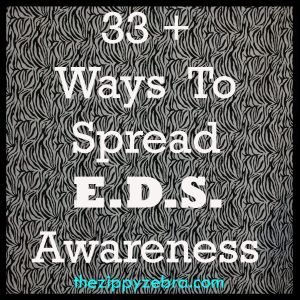 33+Ways to Spread E.D.S. Awareness
Awareness Ideas
Create an Awareness Window: You can use window markers to create something quick and simple OR create a scene inside.  Tips can be found here.
Create an Awareness Sign for your yard (Be sure to add one of the websites for people to find further info)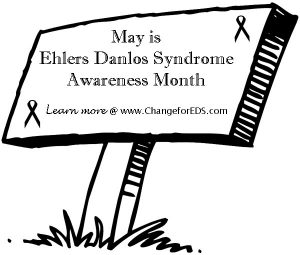 Handout Awareness cards
Hang flyers
Use a press release to contact your local media- you can share your story, an event, or the basic press release.
Participate in The EDS Awareness Stripe Challenge on Facebook
Wear your EDS wardrobe and share with others why you wear stripes
Contact other EDSers in your area and plan a get together to motivate everyone.  Take pictures and share them with your local media OR invite the media to attend.
Take your picture with a zebra and share on social media.
Paint zebra stripes on your face and share on social media with a quote.
Create an EDS Wreath or Sign for your desk, door or place of work.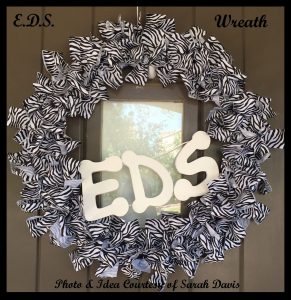 Share a photo of your medical supplies on Facebook like M. Innis did here.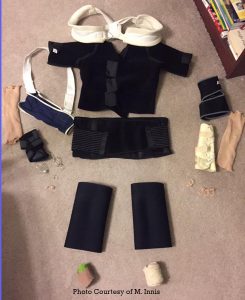 Have your family and friends take a photo with you and add the caption "I love someone with EDS" and share it on social media.
Share an EDS logo as your icon for the month of May.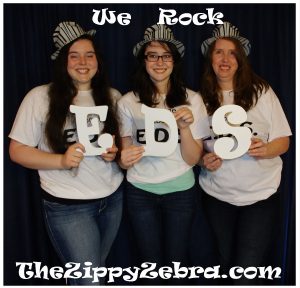 Set up a table during a local event and share info on EDS.  Flyers, signs, banners,etc…
Offer services during a local event in your area and charge a small fee with the donations going to EDS research.  (Facepainting, cookies, handmade jewelry, magnets, etc…)
Distribute EDS awareness items:  Ribbons, magnets, pamphlets, bumper stickers, etc…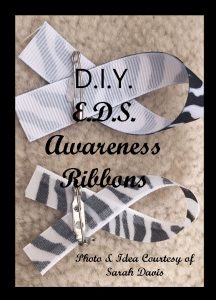 Wear EDS awareness items:  Such as the "Ask Me About E.D.S." shirt found here.  Zebra necklaces, rings, bracelets, ribbons, etc…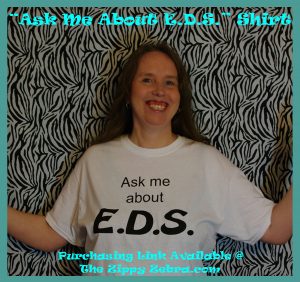 EDS Fundraiser Ideas
Bake Sale
Garage Sale
Walk/Run/Jog/Ride/Bike/Roll/Tumble/Skate/Dance for EDS
Host a Mini-Carnival
Serve a benefit meal
Host a Raffle
Set collection cans up at your local stores/office
Create a jar and collect change at home for the month of April and May, donate when full or at the end of the campaign.  We do this monthly.  Click here for details.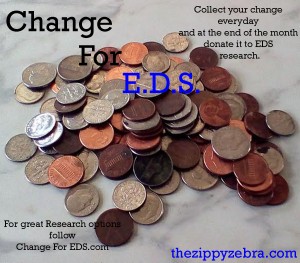 Car Wash
Create items to sell and donate the profits (My daughter creates zebra stripe bracelets from loomy bands and sells them for $1.00-$2.00 then donates the proceeds to research with our monthly change jar amount).
Fishing Tournament
Knit/Sew/Crochet a thon
Scrapbook party
Craft show (Booth rent goes to EDS fundraising).  Host a raffle and dinner while having the craft show
Silent Auction
On-line Auction
Regular Auction
Ask a local business to donate a % of the month's/week's/day's profits (Provide them with proper forms for donation credit)
---
Please share any other ideas, tips or photos by commenting below or emailing me at thezippyzebra@outlook.com
*****************
We would like to offer a collage, slideshow or video at the end of May featuring ways our readers spread awareness in 2016.  If you use ANY of these ideas or others PLEASE submit a photo to us at thezippyzebra@outlook.com
******************
Please direct any questions about submissions here.