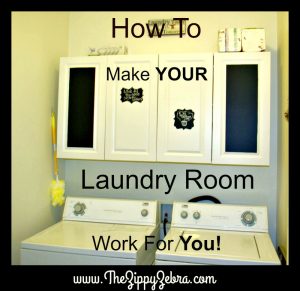 I realize that several of you may be in tight financial situations and can afford neither expensive or difficult renovations, so that's why we decided to share a variety of inexpensive and simple ideas on how to make your laundry room work for you.  Please keep in mind that we try to suggest things that will work for a variety of people and there is no way to actually meet the needs of each individual every single time but we still appreciate your feedback.
HOW CAN I ADAPT THE LAUNDRY ROOM TO SUIT MY NEEDS WITHOUT GOING BROKE?
Lets start with the simple things.
Add a trash can for lint, candy wrappers, etc…
Add a jar/container/basket for spare change, loose buttons, stray Lego pieces and other small items.  (I prefer something non-breakable because I am constantly dropping things.)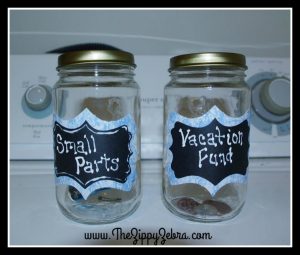 Add a sign to the door/washer/dryer that helps your brain fog remember if there is a load in the washer or dryer to tend too.
One side could read "Ready to Dry" the other could read "Ready to Fold", so that maybe you and your family can remember to transfer things to the dryer and even empty it.
Come on, you know you have had to wash that load three days in a row because you forgot to transfer it to the dryer and it started to smell or wrinkle.

 Keep spray bottles on hand that are easy for you to use.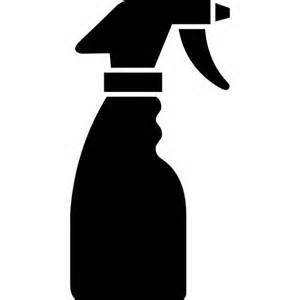 Take it from me, that hard to squeeze stain remover bottle can be replaced by one you are comfortable with.  Just remove or cover the label with something pretty and squirt away!
Add a slab of wood, plastic, etc… between the washer/dryer and wall/machine to keep small items like lingerie, socks, etc… from falling to the floor and requiring you to pick them up.  We actually store our baby gate and wooden laundry rack there.  It keeps it out of the way since we do not use it very often and is highly beneficial in reducing the pile of items on the floor.
Now for the more difficult
If checking for stains, treating holes, etc… is an issue ask someone to add a shelf at the exact height that is comfortable for you.  This can be a fold down shelf, wall mounted shelf etc…  Just make sure you can comfortably reach it.
Do the same to store the chemicals you use.
Install better lighting so you can actually SEE the stains you are looking for.
Add a microwave cart or other organizer to use if a shelf cannot be installed.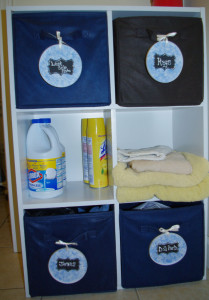 We used a beautiful microwave cart I found for $10 at a resale shop until we found this shelf on sale at Kmart.
It worked perfectly for folding, spraying and checking as well as storing things in the baskets.
My cats love to hide in them too.
Install a bar, ladder, etc… to hang clothes on to dry or hang permanently.
Check out the beautiful creation "Centsational Girl" made here.
I am dreaming of the day I will have my own.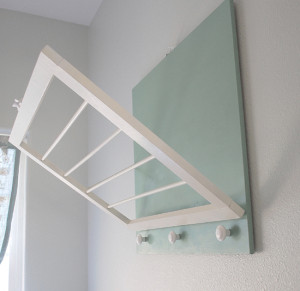 Keep small manageable baskets in the laundry room for things like paired socks, undies, tanks, etc…
If you have a multi-person household keep labeled baskets or bags in the laundry room to contain the small items like paired socks, lingerie, undies and baby things.  (See photo.)  This also means you can tell "Little Tommy" to empty his basket and he should be able to walk right in, grab it and put his things away.  (Just make sure he returns it.)  No more "I didn't see those."
Keep a basket/box/container for odd socks as they come out of the dryer so that you aren't chasing them around the house everyday.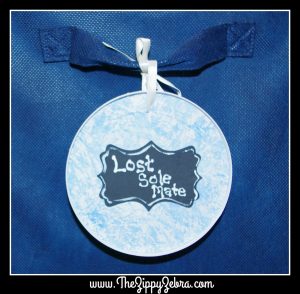 I use my down days to pair odd socks up. 
   As adorable as the "missing a mate" signs with the clothespins are they are completely impractical for our house.
I hope that you were able to find these ideas useful.
Check out our laundry sorting tips here and don't forget to Pin, Like and Share this post with your friends to make their laundry easier too.