Spoonsavers For Writing
Part 3- Helping Your EDS Child
Or anyone with writing challenges.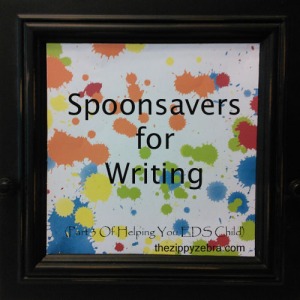 One of the biggest challenges our children face everyday is the amount of writing required for school.  We have tried multiple "spoonsavers" and are looking into trying others.  None of them remove all the pain, but some of them seem to help.  I can't guarantee which options will work best for you, but we would like to share as many as possible.  Starting with the least expensive and building up.
This post contains affiliate links at no additional cost to you.  After we began the Zippy (and this article was first written) we added a program to help offset the cost of running a blog.  This does not affect our content or the free reading and info; it just allows us to help pay for a few of the things we need to stay running efficiently.
Advertising Pens
Before we realized we had EDS we found that the FAT advertising pens businesses and drug companies gave away reduce the stress and strain on our hands and wrist.
Approx. Cost:  Free, so if they don't help, you spent nothing!  Win!  Win!  Right?
This sounds so simple but makes a world of difference.
Grippers are generally made to help younger children grip their pencils, but added to regular pens and pencils they seem to add just the right amount of thickness to ease some of the tension in your hands, arms and wrists.
Aprrox. Cost:  $1.00 or less for 5 or more at your local dollar store OR Amazon has a large selection of Ergonomic grippers that may work better, but cost a little more.
We found these at Target this year (with a coupon) and decided to try them.
They are thicker, write smoothly, and have the grip built in.  We LOVE them.
Approx. Cost:  Amazon offers them at $4.99 for an 18 pack, but they can be purchased at any of your mass retail stores.
I found these on clearance at Kmart last week and decided the girls should try them.  They are shorter than your average pencil, have a thicker heavy lead and are refillable.  Because the lead is thicker and pencil shorter, we have yet to break the lead.
Aprox. Cost:  I paid $1.49 for one pencil, lead refills and an eraser.
We have never used these, but I have seen several people suggest them on the EDS support groups.  Since we have never tried them I will not offer a review, but will welcome anyone who has used them to share their experience in our comment section.
Aprox Cost:  $2.95 Each
We have not tried these either, but I am offering the information for anyone who would like to try them.  If you have a pen, pencil or hack you use PLEASE share it in the comments below, so that others can benefit too.
---
Additional tips: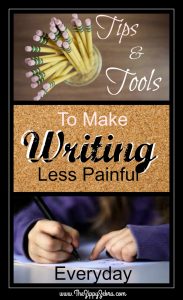 Work Environment 
Angle the table top or keyboard (forward or backward) for comfort.  I will often prop a notebook under the back of mine.
If writing at the table or desk causes shoulder and back discomfort stack books or other solid items to a more comfortable level, so you are not hunched over.
If the girls have to work with their feet up we use a padded lap desk to help elevate the notebook, reading book or computer.  This seems to help with the stress on their wrists, elbows, shoulders and back, while giving their feet a break AND keeping them working.
---
Physical Supports
Wrist braces
There are several styles and sizes available, and most should not be worn full-time at the risk of losing muscle strength, but if wrist pain is a problem speak to your child's doctor or physical therapist for more information and which type/style you should use.  We own 3 styles and use them for various injuries and tasks, as needed.
Finger Splints
If finger dislocation is problem, these may be an option.  Once again, check with your doctor or physical therapist for measurements and the correct diagnosis.
Here are a few links that might me helpful.  These are not something we have ever used so I will not offer any recommendations, but here are a few links others have referred to on EDS sites.
http://www.edsringsplints.com/
 http://www.amazon.com/s/?ie=UTF8&keywords=ring+splints&tag=mh0b-20&index=aps&hvadid=3527366023&ref=pd_sl_7rjk4ncw9e_e
If anyone has recommendations (good or bad) please share them in the comment section.
---
Talk To Type Programs

This is the older program and is currently marked down considerably.  We LOVE it!  It allows my daughters to write a paper, plan a speech, take notes and all with very little hand use.  The girls simply speak into a headset and it types the words.
It can be verbally or manually edited and besides hearing them talk non-stop (it seems), it's been great.
This is the newest version and costs aprrox. $100.
Talk to Type Android App
We have not tried this but have heard others say that it works well for short notes, to do lists, etc…
---
Possible 504 IEP Allowances 
Use a recording device in class for use in taking notes on Dragon Speak or at their own speed later
Have another student share notes or receive a copy from the teacher
Allow extra time for writing assignments
Allow extra time for tests with long answers or essay questions
Allow tests to be answered verbally
Make certain your child is allowed equal time, if not longer, to answer questions (verbally) and to change their answer as another student would if in due process they realized the answer was wrong.
Teach your child short-hand to use as needed
If repetitive writing is required for missed words, sentence structure, etc… offer alternative solutions… Verbal repetition, extra tutoring, etc… to protect your child's hand from pain
I am sorry I cannot guarantee that any of these items will help or completely remove pain, but it should help reduce the stress and strain of school and office work.
If you have any additional suggestions to help with coping with writing in school please comment below and share with everyone.  You are welcome to give a testimonial of how it has helped you and a link to the the site, even if it is your own or someone you know.
Please check our new Disclosure Policy here.
---
Discover more in our "Helping Your EDS Child" series:
Helping Your EDS Child (Part 1 Resources)
How Do You Prepare For An IEP or 504 (Part 2 of Helping Your EDS Child)
Classroom "Spoonsavers" (Part 4 of Helping Your EDS Child)
Out of the Classroom "Spoonsavers"  (Part 5 of Helping Your EDS Child)
#EDS, #504, #IEP,  #Dragontalk, #Spoonsavers
Follow us on Pinterest, Twitter, Facebook and sign up to receive emails.
We will not share your email address or spam you with junk, promise!  We will share each post in the email and share additional links, updates and fun stuff on Facebook.
Save
Save
Save
Save
Save
Save
Save
Save
Save
Save