Awaiting Diagnosis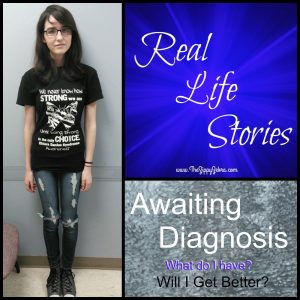 Hi!  My name is Rachel.
I am 14 and a freshman in high school.
I enjoy designing clothes, reading books, hanging out with friends and watching movies.  I like creating stories and drawing.
I have been diagnosed with severe scoliosis, flat feet, severe vision issues, Ehlers Danlos Syndrome Type 3, Postural Orthostatic Tachycardia Syndrome and Mast Cell Activation Syndrome.
I am currently awaiting gene testing results for Marfan Syndrome.Continue Reading the full Article…
this is default footer data